Qatar Airways keeps focus on its equine partnership with the Al Shaqab centre
News Feed
Monday, 06 November 2017
ON the eve of Australia's great horse racing carnival featuring the Melbourne Cup, Doha-based international carrier Qatar Airways highlighted its expertise in horse transportation and its burgeoning business partnership with Al Shaqab, the region's leading equestrian centre and breeding centre for Arabian horses.
Established in 1992, Al Shaqab has developed to become a major supplier of pure bred Arabian horses.
Located in Qatar and spread out over 980,000 square metres, it has stabling for more than 400 horses. The centre is distinguished by its dynamic architectural design with a central horseshoe shape, and for setting the highest standards in horse welfare, breeding, equine education and research.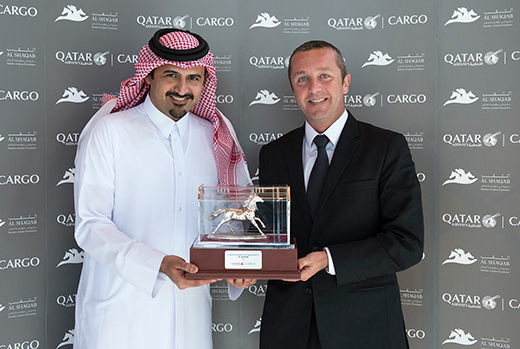 Its state-of-the-art main arena comprises both an indoor and outdoor venue capable of holding over 5,000 spectators and able to host major international sports events at the highest level.
Qatar Airways Cargo has been transporting horses for Al Shaqab since 2012. To date, the carrier has flown more than 700 horses for the centre and carries more than 100 champion horses every year for the annual Chi Al Shaqab event.
Pictured: Guillaume Halleux, senior vice president cargo and acting/chief officer cargo (right) presented the memento to Khalifa Al Attiya.
This event is the only Concours Hippique International competition of its kind in the Middle East and Asia to be sanctioned by the FEI (Federation Equestre Internationale or International Equestrian Federation) and one of only four CHI equestrian events in the world, featuring the Olympic disciplines of Show Jumping, Dressage and Para-Dressage.
Among the horses transported are Olympic and other world-class tournament winners. The carrier also transports horses for the Longines Global Championship Tour held at Al Shaqab every year, and will be transporting 100 horses this month (November) for the grand finale of the Championship tour.
Qatar Airways Cargo recently presented a memento of appreciation to the executive director of Al Shaqab (which is a member of Qatar Foundation), Khalifa Al Attiya, acknowledging the long-term collaboration in equine transportation between the two organisations.
Qatar Airways Group chief executive Akbar Al Baker said: ìEvery customer is at the heart of our business, and we celebrate our long-standing partnership with Al Shaqab, the regionís most dynamic equestrian centre and global equine leader with whom we share common values of dedication, commitment and excellence.
ìWe have been honoured to be the preferred equine carrier over the years, and we look forward to further cementing our business relationship. Our state-of-the-art, live animal facility in Doha offers a temperature-controlled environment with air-conditioned holding stalls, a paddock and on-site veterinary personnel providing the highest standard of air transfer for horses that guarantees care, comfort and safe movement from origin to destination.î
Khalifa Al Attiya responded saying: "We are particularly pleased with the cargo carrier's dedicated staff and its spacious live animal centre at Hamad International Airport that ensure stress-free transfer of our sensitive and high-value horses. We know we can rely on Qatar Airways to provide the required special care during all phases of transportation."