WCO will enhance new transit tool
News Feed
Monday, 06 November 2017
The World Customs Organization (WCO) plans to further enhance its new tool for the facilitation of transit and the establishment of efficient transit regimes - grouped as the Transit Guidelines - following a high-level conference at its headquarters in Brussels.
Participants were unanimous in their confidence the guidelines would be effective in moving transit arrangements to a global standardisation eventually while in the meantime improving individual national systems.
The guidelines are accessible on the WCO website: www.wcoomd.org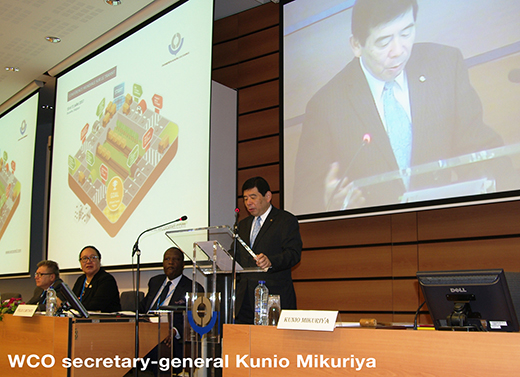 WCO secretary-general Kunio Mikuriya highlighted the fact that transit enables not only goods but also countries to draw closer to each other in economic, political and social terms. 
He pointed out that Customs administrations already are playing a prominent role in the smooth movement of transit goods and as a result are in a position to support economic development, particularly in least developed countries. 
That is why the WCO began developing the Transit Guidelines, he explained, with the aim of harmonising different transit frameworks, unlocking the potential of least-developed countries and taking practical steps towards efficient transit regimes as foreseen by international legal frameworks such as the World Trade Organization's Trade Facilitation Agreement (TFA) and the revised Kyoto Convention. 
The Transit Guidelines contain 150 guiding principles and a variety of practical experiences of implementing efficient transit regimes, as shared by WCO Members. They have been issued in four languages: English, French, Spanish and Russian.
Transit systems also were raised during the eighth meeting of WCO's TFA working group.  This meeting also included a joint session with WCO's permanent technical committee.
Daniel Blockert, Sweden's ambassador to the WTO in Geneva and current chair of WTO's TFA committee, said Customs administrations would have a key role in implementing the TFA, as would the WCO.
Discussions were ongoing about the best way to involve WCO and other international organisations in the proceedings of the WTA's TFA committee, the ambassador reported.
He asked WCO delegates for help in keeping the TFA as an important issue at national level, to raise awareness of the TFA and the benefits it could bring.
The WCO working group also endorsed a survey tool that was developed to facilitate members submitting national practices to be included in the WCO TFA implementation guidance. 
It also covered developments in post clearance audit, single window, transit, border agency cooperation and the WCO's Mercator program as well as the new time release study guidelines.