Interview: CBFCA chief executive, Paul Damkjaer: Investing in training, getting closer to government are key initiatives for CBFCA as it moves forward to 2018
News Feed
Monday, 18 December 2017
PAUL Damkjaer (pictured right), the recently-appointed chief executive of the Customs Brokers and Forwarders Council of Australia (CBFCA), was in Perth earlier this month to meet his members.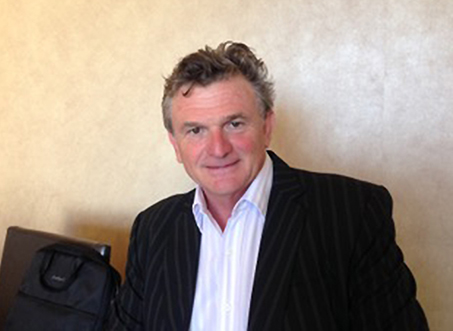 The Damkjaer appointment ushers in a new era for the CBFCA, with a renewed focus on service deliverables for individual and corporate members.
The Perth visit was part of a national schedule of face-to-face meetings with members and regional CPD forums to outline future strategic direction for CBFCA, which recently relocated its head office from Brisbane to Sydney to better address emerging business and regulatory trends for members.
Damkjaer is known to many in the industry for his involvement in border clearance and international freight forwarding in New South Wales, Victoria and internationally. He has extensive industry knowledge after 37 years in the industry and senior management experience. Above all, he understands the border clearance challenges of members.
During his visit to Perth, Damkjaer outlined the future of CBFCA  and the many changes the profession is undergoing through technology advances. He identified communications as a priority and flagged strengthening of existing and future alliances.
Technology has made dramatic changes to the logistics business. How has it affected customs brokers?
Paul Damkjaer: Electronic data interchange has replaced paperwork. Document turnaround times in the supply chain from Government departments such as the Department of Immigration and Border Protection (DIBP), Department Of Agriculture and Water Resources (DAWR), plus shipping lines, are now automatic and take seconds and minutes instead of hours or several days to a clear an Formal Import Document.
How will artificial intelligence (AI) impact the role of customs brokers?
It's happening now. Software now can read documents, leaving brokers to use their expertise  to check the information without interacting with other parties before lodging with Customs.
One person can complete the whole transaction by scanning the bill of lading, airway bill, the invoice, packing declaration and packing list.
How have CBFCA members benefited from technology within the organisation?
The reduction in the amount of processing time required by licensed Customs brokers has allowed them to spend more time servicing their clients. This is the real value-add for business in a B2B or B2C environment and cannot be replicated by technology. At the CBFCA, we also maintain a training and education profile for members to enable them to better understand the rapid changes in technology and its impact on their businesses - and to capitalise on lower-cost alternative ways of doing business.
What do you bring to the role of CBFCA chief executive?
I have 37 years in the Customs brokering and forwarding industry.  I learned the trade on the wharves of Sydney's Darling Harbour, walking around the streets clearing bills of lading and working with the Customs department, Quarantine and various government departments and agencies.
In 1987 I became a qualified Customs broker (at that stage the only qualification recognised in the industry). Once I obtained my licence I ventured out into different parts of the industry, including sales and forwarding. In 1990, I transferred to Western Australia and from there I was transferred to South Australia, Melbourne, back to Sydney and then Brisbane. Later, I worked in the Philippines for three years, managing a large global forwarding company. Returning to Australia in 2013, I found the industry had changed dramatically and that a lot of senior management positions were no longer available. Since then I held a few management roles before being asked to apply for the Chief Executive's role with the CBFCA.
What are your aims for the organisation?
My priority is improved communications with all the key government agencies, specifically the Department of Immigration and Border Protection and Department of Agriculture and Water Resources. I believe we can work closer with these organisations to keep abreast of global trade legislation and its impact on Australian trade.
We will be further investing in our training and education to enable the CBFCA to offer the best in industry for our members. We are a not-for-profit (NFP) organisation and face increased challenges from private organisations coming into our space. The CBFCA is governed by standards and conditions as a NFP that our competitors are not. I have members, they have subscribers - there is a big difference. We are restricted in our cost recovery program and I need to review where we go from here. We need to innovate our service standards to our members. We no longer can rely on the past. We must look to the future and adapt to the new market.
What issues are of most concern going forward?
Jobs going offshore is a pivotal point for Customs brokers.
If those jobs dry up - along with opportunities for promotion and progress - what is going to attract 'new blood' into the Customs broking profession?
Another major concern is with Australian Border Force. There is a lot of uncertainty about the new Australian Home Affairs portfolio. No one really knows what is going to happen and who is going to be affected by the changes.
The new portfolio – due mid 2018 - will cover ASIO, Federal Police, the Department of Immigration and Border Protection and is going to be a 'super ministry' - but we won't know what it looks like until early next year.
Most members of CBFCA are senior, with fewer young people choosing the forwarding and logistics sector as a career. How big a problem is this?
We still have reasonable numbers of students joining the profession. Not as many as we used to attract, but the numbers are steady at this stage and we don't see a need to panic.
We also have improved our training courses and now include new sections on international trade which members can use within their company for employees to gain knowledge if they are new to the industry.
What would you say to people looking at Customs brokering as a career?
It's looked after me for 37 years and I have enjoyed my career to date.
It has not been without its challenges, but the rewards are there.
The camaraderie and personal interaction that was there in the beginning of my career certainly has changed as people don't need to talk or fraternise as much - but I expect that is much the same in other industries. EDI has changed our industry. Nowadays, many Customs brokers focus on niche markets to service or they develop special skills to give their businesses an edge. It could be in oil and gas, mining, perishables, automotive or pharma, but these days it pays to have a specialist string to your bow. But having said all that, word of mouth (reputation) is still the best sales tool in the industry.
You recently moved head office from Brisbane to Sydney. Is CBFCA planning a stronger role with government and industry?
CBFCA has valuable expertise in its ranks and can make a greater contribution to government industry affairs related to trade. The industry moves at a fast pace these days and with regulatory and government changes, we need to be where decisions are made fast and effectively.  Some 65 per cent of our membership is based in Sydney / Melbourne, so it makes practical sense to base our admin as close to the action as possible.
Any moves to resurrect closer ties with AFIF and join forces?
We have a great working relationship and strong association with AFIF and I look forward to making it stronger in the future.
Australia's economic expansion has accelerated, driven mainly by business and government spending. How does CBFCA see 2018 shaping up?
Forecasting in these times is not easy, especially when global politics are taken into the equation. Brexit, the US 'America First' policy, North Korea, Russia, China economics and again the Middle East problems all have the potential to impact on Australia's economic performance.
A lot depends on what industry you service. For example, oil and gas is relatively quiet. Mining activity is starting to pick up again in both WA and Queensland. The likes of Amazon and others going to dramatically change the landscape for retail in Australia. If Australian politics can sort itself out, I am quietly optimistic the Australian economy will perform reasonably well in 2018.