CCS-UK to continue with Advance Info project for airports despite its failure to win over Heathrow
News Feed
Monday, 18 December 2017
RECENT truck congestion at London Heathrow's Cargo Terminal underscores the need for an advance information system that will alert handling agents that vehicles are arriving and help speed up processing.
This is the key message to be delivered in a series of road shows being organised around the UK in early 2018 by CCS-UK User Group, ­ the body which manages and commissions enhancements to the CCS-UK community system.
In addition to detailing the problem, CCS-UK will also update delegates on progress with its Advance Information project. This new function will enable freight agents - and transport companies working on their behalf - to pre-alert handling agents of loads being delivered or collected and give the ability to submit electronic Security Declarations (eCSD).
The advance information ­ including vehicle, driver, cargo being delivered, handling agent and ETA - will be submitted either through a web portal (for smaller, occasional users), or (in the case of larger and more frequent users) messages sent direct from the forwarder's own system. The information will then be accessible to all relevant parties in the supply chain. Deliveries to multiple shed operators will be automatically split by the system, and only data applicable to each handler will be seen by them.
Agents using the system should benefit from pre-allocated truck doors and reduced queuing. Handling agents meanwhile will receive cargo information direct to their systems, so eliminating re-keying, speeding up vehicle processing and enabling more efficient use of resources.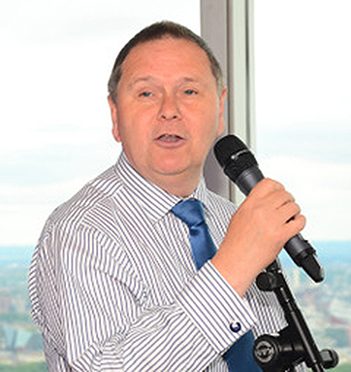 "The congestion problems to date have been at Heathrow, but this is a nationwide issue potentially affecting all UK airports," said CCS-UK chairman Steve Parker (pictured). "Air cargo volumes will continue to grow, and process complexities may also increase following Brexit. This makes it vital for both the UK air cargo industry and the UK economy that existing infrastructure and resources are used as efficiently as possible, to avoid delays and associated costs."
CCS-UK had proposed its solution to Heathrow Airport Limited (HAL) following the latter's recent Request for Proposals for a Call Forward System. Although HAL subsequently decided not to proceed with this, CCS-UK believes in the benefits of its own proposed approach and is therefore continuing with its Advance Information project. This will be available at all UK airports and will be free of charge.
"The suggested physical barrier located at the entrance to the Heathrow cargo terminal, unless also accompanied by a by-pass lane and holding park for non-compliant vehicles, would only have worsened the situation," said Parker. "Nor should the industry have to operate differently at individual airports, or pay extra (as was proposed) for the privilege of delivering cargo to a carrier at Heathrow.
"What is needed is a single system that can be adopted by all industry players, that works at all locations, and that does not increase costs. CCS-UK is working on that solution, and we want to engage with the industry through our roadshows to ensure that the end product is what everyone wants."