SkyCargo posts strong 2017 results, tips even better 2018
Latest News
Wednesday, 10 January 2018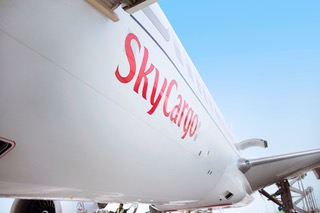 Dubai-based Emirates SkyCargo has reported a year of strong growth in 2017.
The carrier's robust performance was underlined by the introduction of specialised customer-focused air transportation solutions across a number of industry verticals and by continued investment in infrastructure.
Between January and December 2017, Emirates SkyCargo's hubs at Dubai International Airport (DXB) and Dubai World Central (DWC) saw a combined cargo throughput of over 2.5 million tonnes.
Specialised products
During the year the carrier introduced a range of air transport services specific to industry verticals including Pharma, Wheels and Fresh.
Emirates Pharma volumes  have grown by 38 per cent since launch.  The carrier also introduced  a new thermal cover called White Cover Xtreme, offering enhanced protection for cargo in hot, cold and wet weather conditions.
Emirates Fresh transported over 285,000 tonnes of perishables across its network.
With the introduction of Emirates Wheels, Emirates SkyCargo has been transporting close to 150 cars a month not only in the peak summer season, but throughout the year. In addition to individual customers, the air cargo carrier has worked with major car manufacturers and distributors to transport premium and luxury cars.
Industry partnerships
In May 2017, SkyCargo entered into a first of its kind strategic operational partnership with Cargolux.  The two carriers started working together on a number of operational areas including block space and interline, aircraft charter and hub connectivity followed in October by a code-share agreement for cargo. The carrier has had one Cargolux B747 freighter aircraft chartered full time since June 2017.
In the UAE, Emirates SkyCargo signed an MoU with Mohammed Bin Rashid Space Centre to become the space science centre's preferred partner along with an understanding with Dubai CommerCity  to strengthen Dubai's position as a global hub for e-commerce.