Airbus shuffles China roles
Latest News
Thursday, 11 January 2018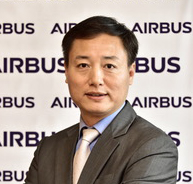 Eric Chen, previously president of Airbus Commercial Aircraft China, succeeds Laurence Barron as chairman of Airbus China.
Simultaneously, George Xu (pictured right) has been appointed chief executive of Airbus China.
In his role Xu is responsible for all commercial aircraft activities and for leading the company's helicopters and defence and space businesses in China.