Sanur Village Festival starts August 9
MICE News
Thursday, 13 July 2017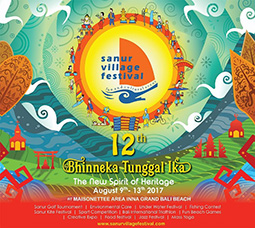 Indonesia's popular Sanur Village Festival (SVF) XII will be held  09-13 August 2017 at Maisonette, Inna Grand Bali Beach, Sanur, Bali.
The chairman of Sanur Village Festival Ida Bagus Gde Sidharta Putra (Gusde) said the theme of SVF - Unity in Diversity - helps to understand Indonesia's diverse environment's ethnic, language, religion and culture.
"Unity in Diversity is an important part of the moral movement that should be continually promoted in line with SVF's basic theme for the last 12 years, the new spirit of heritage," said Gusde.
According to Gusde, similar to festivals before, aside from music, the main stage also presents artistic cultural art and other performances that will entertain the festival visitors while they enjoy various food and drinks from the food bazar. 
All these program designs are presented in an Indonesian theme.
"Togetherness and happiness is understanding that the diversity will be reflected on the stage, witnessed by thousands of viewers. Therefore, we always try to present the best entertainment," said Gusde.
Gusde, who is chairman of PHRI and Badan Promosi Pariwisata Kota Denpasar added: "SVF is no longer exclusively owned by Sanur community, it has become the pride of all those who support Bali promotion efforts.
"SVF is now known at the national and international level and attracts  domestic and international visitors as well as local communities in Denpasar and surrounding areas."