Qatar boosts Eastern Europe – more to come
Health & Leisure
Thursday, 13 July 2017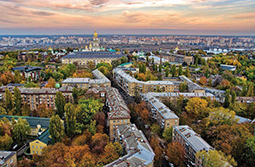 Doha-based Qatar Airways will launch direct A320 services to Kyiv, the capital of Ukraine, with seven weekly flights beginning 28 August 2017.
The aircraft offer 12 seats in business class and 132 seats in economy and have the interactive entertainment system, Oryx One, featuring more than 3000 entertainment options.
Kyiv is one of Eastern Europe's oldest cities and an historic and cultural centre, with impressive architecture and many museums and galleries showcasing the city's centuries-long past. The art collections and architecture of this ancient city are widely-recognised world treasures. 
The launch of service to the Ukrainian capital comes as part of the airline's robust expansion in Eastern Europe, with services to Skopje, Republic of Macedonia and Prague, Czech Republic also commencing this northern summer.