The New York Met 'welcomed seven million' last financial year
Health & Leisure
Friday, 14 July 2017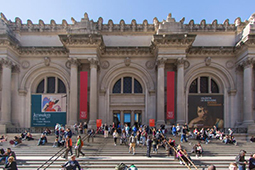 New York's  Metropolitan Museum of Art welcomed seven million visitors across its three locations — The Met Fifth Avenue, The Met Cloisters, and The Met Breuer — in the fiscal year that ended on June 30 (FY17).
The increase in attendance over the previous fiscal year is due primarily to the influx of visitors to The Met Breuer, which saw a total of 505,590 visitors in FY17. 
"The Met is thrilled to see our visitors responding so enthusiastically to our collections, exhibitions, and programs," said Daniel Weiss, president and chief executive of The Met. 
The Museum also continues to be New York City's most visited tourist attraction for domestic and international audiences.
In FY17, international visitors accounted for 37 per cent of the Museum's attendees. The Met is also a popular destination for local visitors: 30 per cent of the Museum's visitors came from the five boroughs of New York City, while 12 per cnt were from the tri-state area outside the City. Also in FY17, The Met was named TripAdvisor's Travellers' Choice for Best Museum in the World.