Fiji Air adds more Qantas code-share options
Health & Leisure
Thursday, 09 November 2017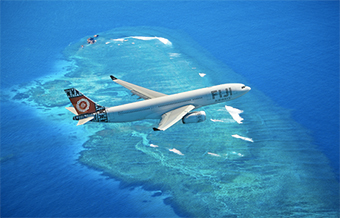 Fiji Airways, Fiji's national airline, now offer more destinations under its code-share deal with Qantas.
Customers can now travel on one ticket to Nadi, Fiji from major Australian cities and regional areas, including Perth, Hobart, Canberra, Darwin, Townsville and Rockhampton. 
Andre Viljoen, Fiji Airways' managing director and chief executive said: "This agreement offers the best possible connections to Fiji via Sydney and Brisbane, giving more Australians the option to say 'Bula' to Fiji sooner."
Fiji Airways and Qantas customers will be able to book flights and check-through baggage when purchasing tickets from Fiji Airways' sales channels, including its web site, on-line travel sites, sales offices and reservation centres. Qantas travellers will be able to redeem Frequent Flyer points.