Bali top choice for Australians' summer holidays
Health & Leisure
Thursday, 23 November 2017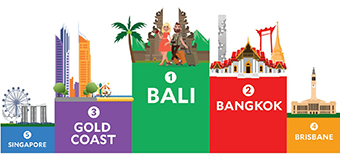 Despite the popular depiction of Australians as globetrotters, according to global online booking platform agoda, Bali has remained the #1 destination for summer holiday travel for the past four years.
Agoda compared booking data from 2013 until 2016 to find the top 10 holiday destinations for Australians during December and January.
The booking data shows Australians almost exclusively stay within APAC over the Christmas and New Year period.
Agoda's recent Travel and Tech Study found 'food and dining' and 'sun, island, beach' were the two most popular travel experiences for Australian Millennials - and Bali offers all of the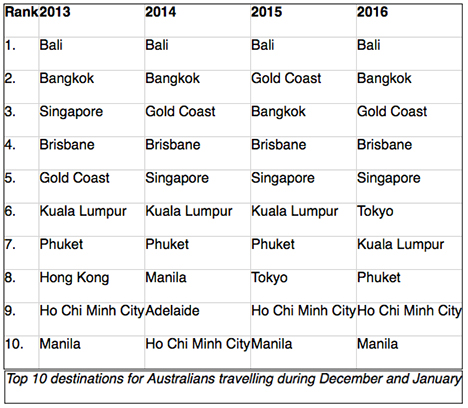 above. The popular Indonesian island has grown into a lifestyle destination that caters to the Millennial foodie lifestyle, with cheap yet stylish 'instagramable' cafes, bars and restaurants set against the backdrop of a tropical island.
Andrew Edwards, global director for Brand and Communications at Agoda, comments on Bali's popularity: "Bali is a staple destination for many Aussies, and it makes sense that it has become a popular summer holiday spot given families can travel overseas together relatively inexpensively. It has great beauty, diverse experiences, not to mention the cheap food and shopping, so it's little wonder Aussies continue to fly over in droves every year."
Queensland has held its own against popular overseas destinations. Just behind Bali and Bangkok, Brisbane and the Gold Coast have held steady positions in the top 10.
Top 10 destinations for Australians travelling during December and January are: