Airtrain adds Brisbane Airport-Surfers service
Health & Leisure
Monday, 18 December 2017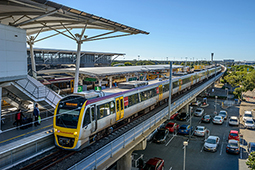 The launch of the Gold Coast Light Rail Stage 2 now delivers seamless travel between Australia's Brisbane Airport and Surfers Paradise via an Airtrain and tram connection at Helensvale station.
Passengers can catch Brisbane Airtrain from Brisbane Airport's Domestic and International terminals to Surfers Paradise and all major stops in between, with a single change from Airtrain to tram at Helensvale.
Julieanne Alroe, Brisbane Airport Corporation (BAC) chief executive  and managing director, welcomed the launch of the new service, saying the transport option supports the growing number of visitors travelling via Brisbane Airport to the Gold Coast and beyond.
"Currently 23 per cent, or nearly a quarter of a million, of all international visitors arriving at Brisbane Airport travel onwards to the Gold Coast region," said Alroe.
"With annual passenger numbers through Brisbane Airport forecast to more than double to around 50 million by 2034, efficient, convenient and seamless public transport options are vital to support the state's economic development, reduce congestion and position Brisbane as the future international gateway to Australia.
"Having this rail link operational prior to the Commonwealth Games in April is good news as 70 per cent of all attendees coming for the Commonwealth Games are expected to arrive and depart via Brisbane."
Airtrain ticket prices start at A$37.60 for adults and A$9.80 for children.
Conditions apply.