Cruising to be bigger and better in 2018
Health & Leisure
Monday, 18 December 2017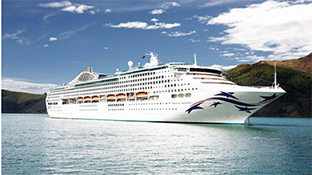 Cruise travel is on the rise, with a projected 27.2 million passengers expected in 2018, according to a new report by Cruise Lines International Association (CLIA).
Its 2018 State of the Cruise Industry Outlook shows that in  2017, an estimated 25.8 million passengers cruised compared to a confirmed 24.7 million passengers in 2016, an increase of 20.5 per cent over five years from 2011-2016. To meet ongoing demand, more ships and departures are scheduled in 2018. In all, 27 new ocean, river and specialty ships will enter service this coming year.
"The cruise industry continues on a growth trajectory, gaining in consumer interest and creating a positive impact on the global economy," said Cindy D'Aoust, president and chief executive, CLIA.
In 2016 cruise industry expenditures generated US$126 billion in total output world wide, supporting more than one million full-time equivalent employees who earned US$41 billion in income, an increase from previous years.
Joel Katz, managing director of CLIA Australasia said: "With the world's highest market penetration for cruising, Australasia's cruise industry is a key contributor to the strong global growth. Cruising generates significant economic benefits that flow to businesses and regional communities far beyond our ships and ports."
As part of the 2018 review CLIA has forecast the top cruise travel trends for the coming year.
1.   All Budgets Will Cruise – Almost all income brackets are cruising. In fact, a third (33 per cent) of the cruisers surveyed who have taken a cruise within the past  three years have a household income less than US$80K. While the data shows cruising does skew a bit more to the affluent consumer than other types of
holidays, the report indicates almost all levels of income enjoy cruise vacations.
2.   Transformational Cruise Travel – The next evolution of experiential travel sees travellers taking a step further and seeking 'transformational' experiences. From cultural immersion and 'voluntourism' to extreme adventures, those returning from a cruise will have a shift in perspective and a sense of accomplishment. Some upcoming cruise itineraries include the opportunity to indulge in local cuisine, guided tours through small villages and even visits inside private homes. Thrill-seekers can fill bucket lists with chances to swim with sharks in South Africa, ride a Harley Davidson in Alaska or mingle with penguins in the Arctic.
3.    Sustainability at Sea – In the coming year there with be an even-greater focus on sustainable tourism.
4.    Millennials Take to the River—River and small ship cruising continues to gain traction among travellers, specifically the Millennial set.  
5.    Skip-Gen Cruising – Multigenerational cruising is projected to increase in popularity. But there's a twist: 'skip-generation' trips, with grandparents and grandchildren traveling together without their parents, are predicted to be highly popular in 2018 and beyond.
6.    Travellers Warm to Chilly Destinations –The coming year is projected to see an increase in popularity of colder climate destinations including the Baltics, Canada, Alaska, and Antarctica.
7.    Healthy Doses – Travellers are seeking health and wellness trips more than ever before and the cruise industry is responding with services and experiences for the mind and body. Today's cruise travellers can participate in on-board health wellness seminars led by popular health experts, custom fitness programs, stress management and spa services.
8.   Smart Travel Technology - The coming year will see a rise in traveller-friendly on-board technologies. Several cruise lines are introducing wearable technology for cruise guests that provide a personalised and seamless experience while on board.