The unique Russian Far East provides a spectacular setting for this new expedition cruise
News Feed
Monday, 25 September 2017

An expedition cruise to the Sea of Okhotsk in the Russian Far East aboard a specially-fitted out ship with just 50 fellow passengers to explore the regioní vast wild life really captured my interest, writes Michael Deering.
As a professional travel advisor with a long career selling cruise and adventure holidays I have enjoyed sailing the ëSeven Seasí in all sorts of craft - from very large ships to smaller river cruise vessels - getting first-hand experience to best advise my clients. But I knew very little about this rarely visited area of the North Pacific.
Very few people do.
It was one of the best-kept secrets of the former Soviet Union and was off limits to all westerners. Even Russians needed special permits.
This global isolation had an upside in that it protected one of the worldís great wilderness and wildlife areas.
The Sea of Okhotsk offers spectacular scenery and natural landscapes shaped by violent volcanoes and California-based Heritage Expeditions (with an office in New Zealand) created a 12-day special cruise highlighting the regionís attractions.
The Sea of Okhotsk is covered by ice for about six months of the year until May and sometimes later. The climate in June when I took the cruise was fairly mild. Average temperatures range from -30C in January to 15C in July. Summer is cool except in August. June and July are particularly misty and foggy which if anything added to the atmosphere of our expedition.
Vast wetlands stretch along the North-west and north-eastern coasts, along the shores of Terpinya Bay and in the south near Aniva Bay. Sea life viewing includes Northern Fur Seals and Stellar Sea Lions and ashore, the bird life is amazing.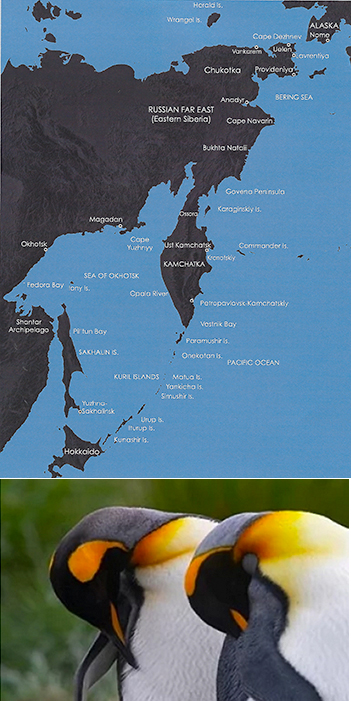 Research
My home for 12 days was the Spirit of Enderby, a fully ice-strengthened vessel built in 1984 and specially fitted out for polar and oceanographic research. The Russian captain and crew were experienced sailors, knowledgeable and friendly.
I joined the ship in the Port of Korsakov, some 40 minutes by road from Yuzhno-Sakhalinst on Sakhalin Island (Russiaís largest island) after taking a scheduled flight from Australia to South Korea and then flying the Russian airline Aurora Airlines to the island.  Travelling to the port of embarkation for the start of the cruise was a little challenging with various flight connections to make in Seoul, a few language problems and gave me an early reminder that I was on an adventure to a wild part of the world and not a five-star escape in a safe Australian city. It was quite exhilarating.
Overall flights were efficient, comfortable and on schedule.
My cruise adventure to the Sea of Okhotsk is appropriate for anyone in good health who is physically active. You will need to climb into and out of Zodiacs which are used to explore the coastline and transport passengers ashore for walks, to scenic nature areas, and to explore the remains of ancient settlements.
On boarding the Spirit of Enderby, I learned the ship was refurbished in 2013 and now has comfortable accommodation in twin-share cabins, half of which have private facilities. All cabins have outside windows or portholes and ample storage space. The ship features a bar/library and a dedicated lecture room. Meals throughout the trip were excellent, using fresh produce sourced locally and prepared by Australian and New Zealand chefs.
My cabin was on the main deck, number 312, which comprised two lower berths, wardrobe, washbasin and a porthole. I had the cabin to myself throughout the voyage and was also lucky with the shared facilities that were always on tap when needed. After meeting my fellow expedition members, I quickly settled in to the facilities and shipboard routine and looked forward to the itinerary and its promised spectacular viewing of bird and sea life as we cruised the coast along the Shantar Archipelago.
Photograhy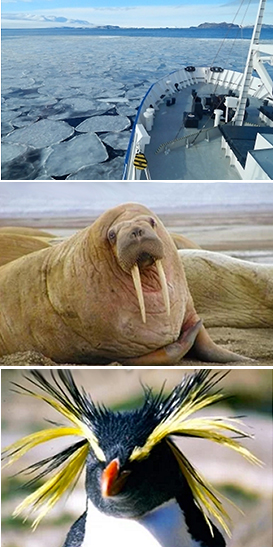 Our first stop was the Tyuleniy Island. Ideal sea conditions enabled us to go ashore to explore the small islandís breeding colony of seals and sea lions. We were able to get up real close, making for some great photography guided by the shipís experts who accompanied us on the tour.
Piltun Bay gave us the opportunity to go in search of the Western Grey Whale. They often come in close to shore to feed.
Cruising up the Shantar Archipelago, the islands are some of the last to be ice free each year. Earlier that morning we listened to interesting presentations by our on-board naturalists to prepare us for our next shore adventure amongst incredible botany and spectacular bird life.
On Day eight we arrived at Okhotsk Town, landing by Zodiac - the Spiritís launch. The locals turned out in force to welcome us with music and a cultural display of local colour.
Talan Island on day nine provided spectacular viewing of huge flocks Crested Auklets massing at sea before coming ashore to feed.
Koni Peninsula is a mountainous region to the south-east of Magadan close to the Magadanskiy Zapovednik Reserve which protects brown bears and Snow sheep. We never knew in advance where we would be landing, which made it  such a great adventure. The islands here are home to an estimated seven million nesting birds. We cruised around Matykil Island in the Zodiacs as no landings are permitted there.
We completed the cruise on day 12 at Magadan a town of about 100,000 people who mainly live by fishing and gold mining. Here I took a tour of the local museum and saw evidence and photography of the infamous Gulags of the Stalin era.
After farewells with my fellow passengers and crew I returned to Australia having experienced one of the worldís truly great adventure cruises.
The cruise itself costs just over US$15,000 and my airfares came in just around A$4600. Visas were no problem and all the crew speak English. It would make an excellent incentive reward for performance. June is the best time to travel as the weather is neither too hot nor too cold.
* Michael Deering is managing director of Perth-based Cruiseworld and Flightworld travel agency. For more information, This email address is being protected from spambots. You need JavaScript enabled to view it.