How 2YQ cuts costs and builds delegate loyalty for long term
News Feed
Monday, 25 September 2017
ORGANISERS are constantly seeking an edge to grow their shows. But those who plan and consider the so-called ëSecond Year Quotientí can experience a big difference ñ both to the bottom line and attendee satisfaction.
ë2YQí is based on the likelihood that first-time attendees will return to the same event in the future - and it has a lot to do with a good experience at the initial show.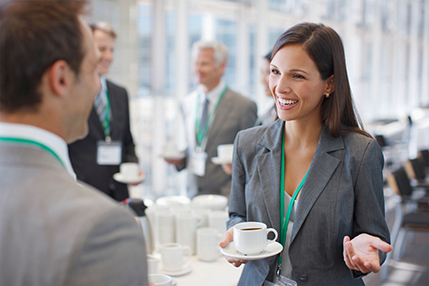 Why 2YQ matters
According to the 2016 Benchmark & Trends in Attendee Acquisition report, trade shows spend an estimated US$300,000 on a wide range of marketing tactics to increase attendance. But attendees who return to events for a second year might make the show part of their annual event calendar. And there are big benefits when repeat attendees come back year after year.
To start with, the cost of acquiring a new customer is four-to-10 times more than retaining an existing one. Boosting the Second Year Quotient means having to spend less on marketing and according to a Harvard Business School study, increasing retention rates by five per cent typically increases profits by at least 25 per cent.
Five tips to best prepare an event technology strategy to achieve a positive 2YQ:
1. Match your app features to your attendee profile/s
What are your attendeesí characteristics? Whatís most important to them during the event experience ñ education, seeing new products or networking?
2.  Use a ëFirst Timersí feature in your event app
Take a moment to walk in a first-timerís shoes. Theyíve never been to your event before. Thereís a good chance they could be intimidated figuring out how to make connections or navigate the show floor.
Ask yourself how first-timers can get the most out of your event by walking away with an experience worthy of a slot on their annual calendar. This mindset will not only shape your content, but may highlight other areas in which this helpful content can be featured throughout your event app.
For example, popular First Timer content can include dedicated meet-ups, highlighting sessions geared to new attendees, first-timer incentives at local restaurants or activities to check out in free time.
3. Pre-event experiences
Make it a priority to identify first-time attendees during the registration process, then create a segmented group of newbies and address their unique needs.
Give them helpful and tailored tips, ideas and information well before they land on site and theyíll form a positive impression of your event ñ and boost the likelihood of a return visit.
As one example, before they even leave for the show, remind first-time attendees to download your mobile event app. Explain how the app can be used to create a more relevant and personalised experience ñ especially if youíve created a First Timers feature.
You can also make the pre-event experience more pleasant through special geo-fence event app alerts. These alerts contain anything from helpful information to agenda updates to safety and security notices.
4.  The 'Live Experience'
Event technology plays an important role in supporting a positive first-time experience. According to The CEIR Attendee Retention Insights study, a whopping 98 per cent of respondents say the ability to compare brands, talk to experts and learn about new products is a priority.
Create a good experience by including interactive floor plans and maps in your event app to make it easy to find exhibitors and get around the show floor. For example, let attendees select a vendor theyíd like to visit or a session to attend, and the app will highlight the best path to get there.
Organisers can also create a custom audio tour for their event app that guides attendees through a curated experience.
Eighty-three per cent of repeat attendees also say itís important to ìsee, touch and interact with new productsî. Use event technology to create a good first year experience and make it easy for attendees to discover new products using a New Product Showcase. Use the show app to scan tags placed throughout the showcase displays. Attendees can receive detailed descriptions about new products, find the exhibitors who make them and how to learn more, all with a simple scan.
Another way you can give attendees a good first-time experience is by having them use their event app for a treasure hunt. Treasure hunts offer a fun and interactive way for your attendees to experience your show through the app. It also drives attendees to sponsorsí booths, which can increase show floor traffic and drive exhibitor engagement.
And any first-time attendee experience isnít complete without the ability to meet and mingle with new colleagues. Beyond simple first-time attendee badges, stickers and meet-ups, use in-app event technology networking to help attendees network with each other.
5. Continuous improvement
According to the Convention & Exhibition Management Technology Study from the Trade Show News Network, two-thirds of respondents named the ìability to use event data to improve attendance marketing and communicationî as the most important event technology development in recent years.
So once your event is over, donít forget to mine all the analytics from your event technology platform to identify additional ideas to keep improving the attendee experience.
With pre-planning and the right event technology platform, you have a better chance of creating an amazing first-time experience that will leave attendees wanting more of your event ñ and returning for a second year.
About the author:  Darren Edwards is the founder of Invisage Creative Services in Australia. With more than 23 years' experience in the meetings and events industry, his passion is to connect people through the supply of creative design and innovative event tech solutions. Contact: This email address is being protected from spambots. You need JavaScript enabled to view it. www.invisage.net