TNZ, CINZ re-sign international MoU for fifth year
MICE News
Tuesday, 12 September 2017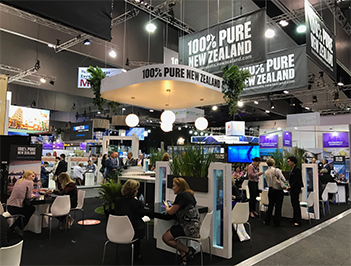 Tourism New Zealand (TNZ) and Conventions and Incentives New Zealand (CINZ) have re-signed - for a fifth year - a Memorandum of Understanding (MoU) that confirms co-operative activity in the promotion of international business events to New Zealand. 
Stephen England-Hall, chief executive TNZ says the organisation will continue to support CINZ's Australian trade events to enable greater reach and effectiveness. 
Tourism New Zealand will continue to drive global marketing campaign activity in support of the sector, and operate the Conference Assistance Program as the key tool in securing large scale international conferences.
"With the increased focus on international business events as a factor in this country's economic growth, the MOU ensures full collaboration on the most meaningful opportunities," said England-Hall. "And the results are strong, with International Visitor Survey figures detailing that conference and convention arrivals were up 11 per cent (70,688) for the year end June 2017. 
Additionally, New Zealand rose four places in the most-recent International Congress and Convention Association (ICCA) data to 12th spot in Asia Pacific and 47th spot in the world. Clearly, our focused approach to partnering works."  
 Chief executive of CINZ Sue Sullivan added: "We work in partnership in the Australian marketplace, leveraging the relationships to maximise the opportunities for New Zealand and our members. We continue to use the 100 per cent Pure New Zealand message in all marketing activities as the overarching destination message. We will continue to work to develop the annual trade show Meetings with a real focus on the buyers beyond Australia."